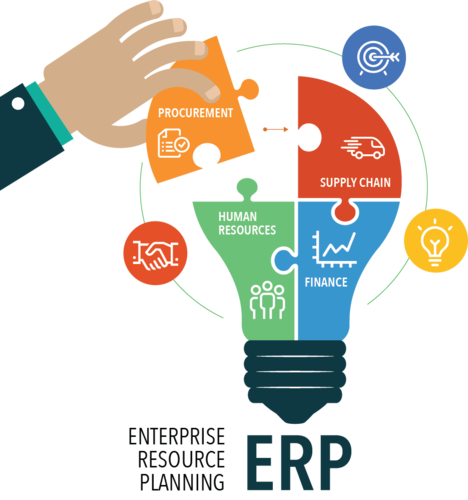 What Is Enterprise Resource Planning Software?
Enterprise Resource Planning (ERP) software is any of a number of software platforms that bring together customer relationship management, accounting, core HR, and supply chain management features together in a single software. Because of the complexity and number of features available through ERP software, it has been traditionally adopted by large enterprise corporations, but recent years have proved that ERP software is useful even for small and medium-sized businesses (SMBs).
⇛ Facilitates informed decision making
 ⇛ Cost saving solutions through organized business processes
 ⇛ Integrates business processes facilitating better control
 ⇛ ERP improves the work flow and information flow in the organization
⇛ Introduces transparency in activities
⇛ Facilitates co-ordination of activities between different departments
⇛ Provides quality communication channels leverage
ERP SOFTWARE
An integrated enterprise system is a necessity for sustained growth and development, while keeping your organization competitive. Increasing the quality and visibility of business information is the key to increased customer satisfaction and improving your bottom line.
Smart and adaptable
Leverage intelligent ERP with built-in machine learning, predictive analytics, and optimised processes. Keep the latest innovations at your fingertips with automatic updates.
Fast and affordable
Tap into SAP's world-class cloud infrastructure to run lean and flexible business processes. Get up and running quickly – anywhere in the world – for a low monthly cost.
Secure and reliable
Our cloud-based ERP solutions have you covered – from system security to compliance. Your data is hosted on world-class servers with global teams dedicated to its safety.
Contact Us
  1104, Tower 4, Assotech Business Cresterra, Sector 135, Noida, UP-201301
+91-120-5107050
+91-9354334258
   info@srishta.com
   srishta.sales